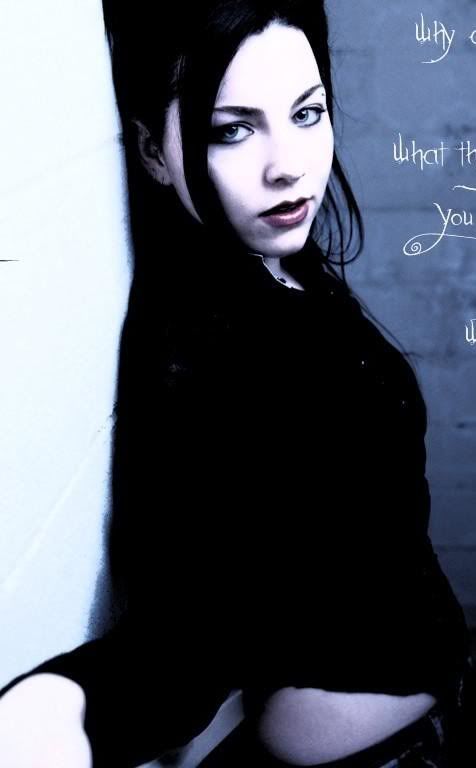 In the true and trademark style of Evanescence, Hello is both morbidly melancholy and breathtakingly beautiful.
This track, from the group's debut album Fallen (2004), has special signifigance to Amy Lee, the woman behind Evanescence's haunting vocals. Hello was written by Amy about the death of her little sister. Amy was only six years old the day three-year-old Bonnie Lee died, and the lyrics depict this tragic experience in the eyes of a child.
Even without the sad tale to back it up, this song is no doubt emotionally charged. When you hear a song begin with the lyric Has no one told you she's not breathing?, you know you havn't got a pleasant three minutes ahead of you. But nonetheless, Amy Lee has unparalleled talent when it comes to vocals, and she's backed up by an outstanding group of musicians that complete such a heartwrenching track.

Even though this track is going on four minutes long (mostly consisting of the haunting melodies, a knockout combination of piano and violin sure to leave the listener breathless), it seems much shorter. As Amy is singing about her incredible grief, you get lost in the story until, suddenly, Amy hits that remarkable high note while begging, "Hello, I'm still here ... " And then, the song simply ends, before it seems it has even begun. It leaves you with a hollow feeling, looking for answers, some closure. Just like Amy must have felt the day she was told of her sister's death.
Such a powerful track ... I just can't get enough. Five stars from me, without a doubt.

A note ... while the video posted may appear to be a professional music video, this is not the official music video for Hello. Evanescence has not filmed a video for this track. I found this video on YouTube, and I must say it is quite stunning. Kudos to christinerobson from YouTube for creating such a beautiful video, mixing clips from several official Evanescence music videos. Bravo - a beautiful mix!

Evanescence - Hello Video




Hello
Evanescence

Playground school bell rings again
Rain clouds come to play again
Has no one told you she's not breathing?
Hello, I'm your mind giving you someone to talk to
Hello...

If I smile and don't believe
Soon I know I'll wake from this dream
Don't try to fix me, I'm not broken
Hello, I'm the lie living for you so you can hide
I don´t cry...

Suddenly I know I'm not sleeping
Hello, I'm still here
All that's left of yesterday...